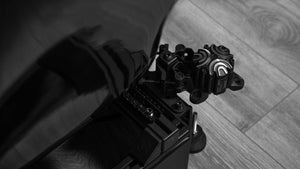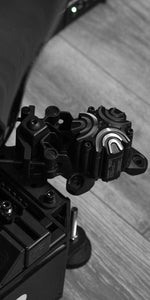 "ButtKicker gives me real-life feedback that was missing in my sim racing."
- Tommy Milner
2x Le Mans Winner
2x IMSA GTLM Champion
ButtKicker + Sim Racing = Pro Level Immersion
ButtKicker haptic hardware and software deliver the most accurate and highest fidelity sim racing tactile feedback possible via in-game audio and telemetry data.
Experience deep immersion by actually feeling the vehicle suspension, track surfaces, engine RPMs, tire grip, and more.
Precise haptic feedback for your simulator faster driving, more immersion, and more control.
Without haptic feedback you're missing a key component for accurate vehicle control. Just like you wouldn't drive without a force feedback wheel, driving without haptics means you're leaving vehicle control information on the table. By adding haptic feedback you're able to intuitively and accurately feel critical events like wheel slip and lock and push corners right up to the limit of traction.
It's not just more fun, it's critical for racers of all levels that want to drive faster and more consistently.
How it works:
1. Hook It Up
ButtKicker haptic transducers easily attach to standard center post chairs and sim rigs with the durable Universal Clamp mounting mechanism. Next, connect your audio to the included amp.
2. Install HaptiConnect
HaptiConnect® is our new haptic software that enhances and extends the capabilities of new and existing ButtKicker hardware. HaptiConnect features hand-tuned plugins for in-game telemetry data and also provides an easy to use audio router mode.
3. Experience Deep Immersion
The ButtKicker Haptic Feedback is powerful and precise low-frequency vibrations that can be used to accurately transmit the sensation of suspension response, track surface, wheel slip and lock, acceleration, and mores. ButtKicker Haptics brings the sim racing experience as close to reality as possible, all through a low cost upgrade that fits on almost any sim rig.
This is How to Make Sim Racing More Realistic
The wealth of physics data in your sim is what drives ButtKicker HaptiConnect. We use this telemetry to generate precise haptics that feel just like what you experience in a real world car. The wealth of information revolutionizes how you drive by letting you push harder and put down faster laps.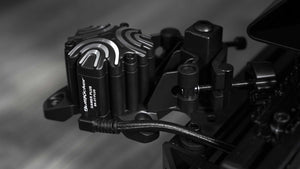 ButtKicker Gamer PLUS
Gamer PLUS is the new and upgraded sim racing and gaming haptic hardware that reproduces immersive, accurate and powerful sim racing, flight sim, and gaming effects.
SHOP NOW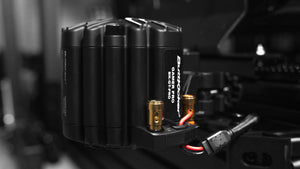 ButtKicker Gamer PRO
Gamer PRO is larger and more powerful than Gamer PLUS and is ideal for racers and gamers who want more and those who have larger and heavier setups.
SHOP NOW
ButtKicker HaptiConnect
HaptiConnect is haptic software that enhances and extends the capabilities of new and existing ButtKicker hardware.
SHOP NOW
BK: Gaming
Innovative hardware & software designed to give passionate gamers a deeper level of gaming immersion.
BK: Home
Powerful, accurate home theater equipment delivers unforgettable movie & streaming experiences.
BK: Cinema
BKCS Active Seating moves audiences around the world. 40,000 seats, 11 countries, & counting.
BK: Music
Accurate, powerful, & incredibly tight low end response for your stage, studio, or rehearsal room.